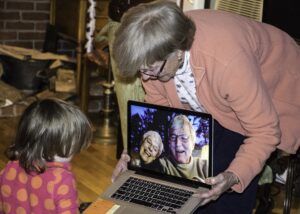 Today, video conferencing services like Zoom are common and prove extremely effective at helping families stay connected when distance is a factor or social distancing continues to be encouraged. When Chatting over video, how do you go about engaging with the family or friends? A few simple ideas can keep things fun and interesting.
Play virtually. Thanks to games like Heads Up that don't require everyone to be in the same apartment together, this is one idea families can use to keep everyone from parents to children entertained. A simple game of trivia can also go a long way in creating memories and fun experiences even if families or friends are hundreds of miles away.
Throw a virtual party. As many people remain indoors, most outfits consist of wearing the same comfy clothes like a t-shirt and sweatpants. If you want to enjoy a virtual night out on the town, there are ways to get creative. Throw a virtual cocktail party with a dress code and keep things engaging by sharing some appetizer or drink recipes everyone can enjoy.
Read a bedtime story. Grandparents with young grandchildren may want to remain connected to the little ones as much as they can while remaining apart to keep everyone safe. Purchase two copies of the same book. The grandparent can read the book while the child quietly follows along. Conversely, older grandchildren may wish to read a book to their grandparents.
Have an online gathering. Perhaps you're accustomed to getting together with a religious study group. Video chatting is a great resource that can serve as an online gathering when going to a place of worship is not an option. Although many of these places are streaming their services, the video chat could be used as a safe way to, for example, discuss the mass.